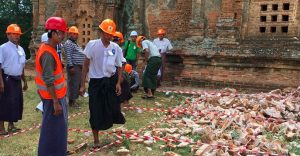 On 14 November, 2017 the 39th session of the UNESCO General Conference adopted an Addendum to its Strategy for the Reinforcement of the UNESCO's action for the Protection of Culture and the Promotion of Cultural Pluralism in the Event of Armed Conflict, concerning emergencies associated with disasters caused by natural and human-induced hazards.
In doing so, a significant step was taken to reinforce the protection of culture and cultural heritage in emergencies resulting from natural disasters. The Addendum sets the path for the Organization's work through two key objectives: on the one hand, strengthening Member States' ability to prevent, mitigate and recover the loss of cultural heritage and diversity as a result of disasters caused by natural and human-induced hazards; and on the other hand, incorporating the consideration for culture into the Disaster Risk Reduction (DRR) sector and humanitarian action related to disasters by engaging with the relevant stakeholders outside the cultural domain. These objectives are aligned with the Sendai Framework for Disaster Risk Reduction (SFDRR) 2015-2030 and articulated around its four Priority Areas of Action.
The Addendum's objectives are aligned with those of the main Strategy and constitute an integral component of UNESCO's emergency preparedness and response policy. It fills a critical policy gap in that it adapts the international DRR policy framework to the cultural domain as a whole, rather than to World Heritage alone, as was the case until now. In addition to providing means of protecting cultural heritage from disasters, it looks at the role of culture – in its broader definition – in strengthening resilience and fostering social cohesion for a more sustainable recovery.
Over the course of 2017, a high number of devastating disasters, including hurricanes in the Caribbean region and earthquakes in Mexico, have underlined the extreme vulnerability and exposure of culture and the lack of resources and planning in place to protect it.
In the face of these challenges, the need was recognized for new and more effective approaches by UNESCO. In this regard, the Addendum adopted by the Organization's General Conference defines priority areas of action, with activities to be implemented in the framework of the Strategy's Action Plan endorsed by the Executive Board last April and which covers all types of emergencies. The General Conference also called on Member States to contribute to the implementation of the Strategy, including its Addendum and Action Plan, notably through voluntary contributions to the Heritage Emergency Fund .
For further information, please click here